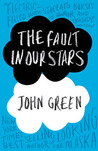 The Fault in Our Stars by John Green
My rating: 5 of 5 stars
Like many others I was surprised to read that this is a YA book.
However I planned to read it months ago and just a few days ago I bought it.
I started it on the same day, and just 3 days later I finished it.
I couldn't stop reading.
I love books and I love to read but not every book does the same to me, this is one of the books that made me feel like I am actually part of it.
I lived it, I breathed the same air as Hazel and Augustus, Isaac and Peter.
I traveled to Amsterdam, I feel for Augustus and I lost him.
I cried and asked myself if I could ever handle such a pain, to lose someone you love to death.
I know sooner or later I will experience it and my answer is "I have no idea how to survive it"
I lost the love of my life because he lied and cheated. And for the first time since my relationship with him is over I thought how thankful I have to be that I didn't lose him to death.
Almost everyone who died in my family had cancer.
So as soon as I read there is no chance for Hazel to survive I was sad, I swallowed hard and kept on reading, knowing sooner or later I'll cry.
But then there is the twist I didn't expect..Augustus dies……
I was shocked and I was angry(like they would be actual people) that he had to die although the chances were 80 % in his favor.
I loved the book and I hated it.no seriously I love it.
It gave me so many emotions and made me write the longest Book Review I have written so far in my whole life.
Thank you John Green for this.
And thank you as well for your own words in the book, saying that this isn't based on any true events and that asking if it is would undermine the fact that fictional books can touch as well.